CDs on offer
We currently have 2 CDs on offer and below are the full details of each CD along with the track listings.
Below the CD details is the order form where you can choose to buy either CD or both. Please then select the shipping option that applies to you and click the 'Buy Now' button to be redirected to PayPal to complete your purchase. We will then organise the shipping for as soon as possible. 
If you would like to buy more than one copy of a CD, please use the contact form at the bottom of the page to let us know your requirements and we can then let you know what the costs would be.
If you have any questions please let us know.
We hope you enjoy the music!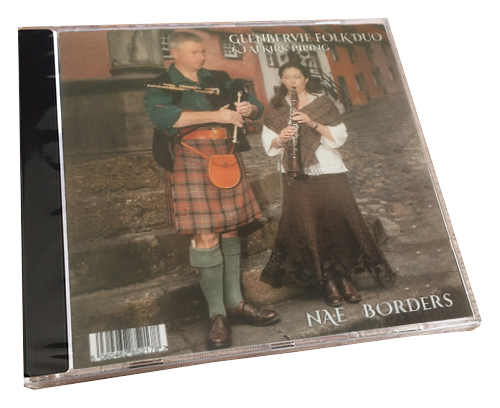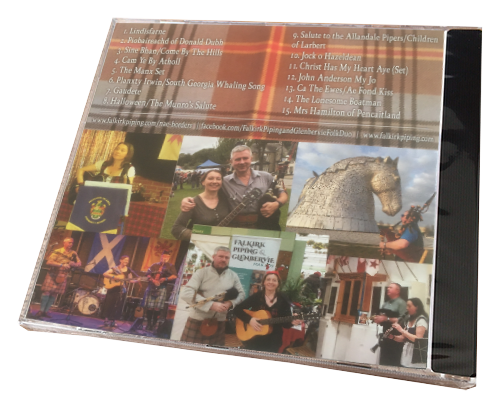 Nae Borders
This album was recorded in late 2019/early 2020, after the most fantastic year ever! In 2019, in addition to teaching all year and doing local performances, we travelled to San Diego, USA; 
Norfolk, England; The Isle of Man; Odenwald, Germany; and the Ardersier Folk Festival, Scotland.
Everywhere we went, we were asked for Glenbervie CDs…better late than never! We decided at the end of 2019 to have a quieter year, stay local and teach. In late January, we returned to Odenwald to perform at a Burns Supper. Whilst there, whispers began to emerge about a strange virus hitting China…a few weeks after we got back to the UK (and settled into our new house), the Covid lockdown began, and 2020 was wiped out for gigs. Good year to have a quiet year!
We hope you enjoy the album. Below is the track list.
1. Lindisfarne. Neil: C smallpipes; Kathryn: Bb clarinet
Tune by Scotland's iconic smallpiper and expert on music from the Scottish/English border, Matt Seattle. Thanks to Matt for permission to record the tune. In his own words…
"This is probably my most popular tune, especially among pipers. After I'd moved to Northumberland and visited Holy Island, I wondered why there wasn't a tune named for such an iconic location. The possibility of one hovered over me (around one foot above my head and slightly to the right) for quite some time, and landed on my fiddle's fingerboard in early 1990".
2. Piobaireachd of Donald Dhu. Neil: A smallpipes; Kathryn: A clarinet
6/8 pipe march derived from the ancient piobaireachd 'Black Donald's March', believed to refer to the Battle of Inverlochy around 1425.
3. Sine Bhan/Come By The Hills. Neil: low D whistle; Kathryn: guitar
Sine Bhan (Fair Jean) written by Duncan Johnstone of Islay. Reflects a young man going to fight in WW1, leaving his sweetheart behind.
Come By The Hills – lyrics by W. Gordon Smith, set to traditional Irish melody.
4. Cam Ye By Atholl. Neil: vocals, C whistle; Kathryn: vocals, guitar
Lyrics by James Hogg, tune by Neil Gow. Jacobite gathering song. Bit of an effort to hit the high notes in this one.
5. The Manx Set. Neil: A smallpipes; Kathryn: A clarinet
Neil teaches pipes to three fine gentlemen in the Isle of Man, who are collectively known as 'Skirl'. Through this connection, we were invited to the island in 2019 to take part in the Yn Chruinnaght festival. We felt we should really learn some Manx tunes for going over – Iree ny Greiney (Sunrise) by Robert C. Carswell, Ellen Vannin by J. Townsend, Hie mee Stiagh (I went into (The Widow's House), Manx trad, Hope tu Naa (Halloween), Manx trad.
All tunes taken from the book 'Piob Vooar', produced by Chloe Woolley, Culture Vannin
www.culturevannin.im
6. Planxty Irwin/South Georgia Whaling Song. Neil: F whistle; Kathryn: guitar
Lovely 'planxty' air by Irish harpist Turlough O'Carolan, from around 1700. We've paired it with a traditional Gaelic air, which really shows how far travelled the Scots -in this case – whalers were. We didn't get quite as far down as South Georgia, but did make it to the Falkland Islands for a fantastic trip, performing and teaching, in 2018.
7. Gaudete. Neil: low F whistle; Kathryn: Bb clarinet
Ancient carol, perhaps most familiar after being recorded by Steeleye Span in the 70s. Our version was recorded in Falkirk Folk Club in Dec 2019, as part of the 'Winterset' evening. Sound engineer and friend Charles Tibbles sent us the recording, and allowed us to use it on the album. Thanks, Charlie!
8. Halloween/The Munros' Salute. Neil: vocals, C smallpipes; Kathryn: vocals, Bb clarinet
Another one with personal meaning for us. The song was written by Violet Jacob, reportedly on being told of her son's death in WW1. The boy had been a ploughman, a 'head horseman', and the song is told through the words of his pal, who just misses him. When Neil's pal Brian died, for some reason this song kept cropping up on the airways, and it was pretty depressing.
We learned it, now perform it, and the act seems to have healed the sadness we once associated with it. It's certainly a sad song. We paired it with the first part, or 'ground', of a piobaireachd by Ian Dall MacKay, the Blind Piper of Gairloch, in honour of his patrons, the Munros of Foulis. We like the tune, but it has a connection for us too. Sir Robert Munro of Fowls was killed in the second Battle of Falkirk in 1746, where he was commanding a battalion.
9. Salute to The Allendale Pipers/Children of Larbert. Neil: Highland pipes
The Allandale Pipe Band was based near Bonnybridge, Stirlingshire. Neil's grandfather, Robert Bishop, learned bagpipes there, taught by his friend Robert Irvine. In 1938, as war approached, the band joined the local territorial army almost en mass, and became the Pipes and Drums of the 7th Battalion Argyll and Sutherland Highlanders. They formed part of the famous 51st Highland Division, and took part in the Battle of El Alamein in Nov 1942. They suffered numerous casualties and the Pipe Major was killed. Robert Irvine wrote the poem after the battle. He was killed in July 1944, near Caen. The poem re-surfaced a few years ago, and Neil wrote the tune to go with it. It was first played in Nov 2019 at the re-dedication of the Falkirk War Memorial.
10. Jock O'Hazeldean. Neil: low D whistle; Kathryn: guitar
Learned by a generation of Scots kids at school, written by Sir Walter Scott…the 'inventor of Scotland'. Sir Walter gets a mixed press these days, but there's no doubt he's shaped a great deal of our country's perceived heritage and culture. And in fairness, we like that. A lot!
11. Christ Has My Heart Aye Set. Neil: A smallpipes; Kathryn: A clarinet
Christ Has My Heart Aye is an ancient Scottish hymn. Alan Reid (Battlefield Band) put this tune to it in the 1970s.
The Mermaid is a Gaelic air. In And Out The Harbour is a Reel. Juan Martino's was written by Mike Katz in honour of fiddle player John Martin
12. John Anderson, My Jo. Neil: vocals, C whistle; Kathryn: vocals, Bb clarinet
Song by Robert Burns. Neil's lifelong friend, Brian Aitchison, was a Burns man. He died in 2016, and at his request, we sang this at his funeral. Got to admit, was quite a hard one. The real 'John Anderson' is buried at Kilchuimen cemetery in Fort Augustus. We found this quite by accident, a few days before playing at a ceilidh in the town, so we took some time out and sang his song for him, too.
13. Ca' The Ewes/Ae Fond Kiss. Neil: low D whistle; Kathryn: guitar
Two tunes used by Burns for his immortal songs, much loved by us.
14. The Lonesome Boatman. Neil: A whistle; Kathryn: guitar
Tune written by Finbar Furey when he was 19, from the 1969 album of the same name. Always been a favourite of Neil's, so he arranged it to suit our style. Seems to go down well at gigs!
15. Mrs Hamilton of Pencaitland. Neil: C smallpipes; Kathryn: Bb clarinet
Tune by Nathaniel Gow (1763-1831). Mrs Hamilton's portrait hangs in her home, Winton House, in Pencaitland, East Lothian. Staff there kindly granted us permission to film ourselves playing the tune under the painting. We hope she would've approved…
Additional Details
Our instruments are:
Buffet R13 clarinet in Bb; Boosey & Hawkes Emperor clarinet in A; Baby Taylor acoustic guitar; Whistles by Chieftain, also Dixon; Highland pipes: Peter Henderson's by R G Hardie (2004), also Grainger (1950); Smallpipes in C by Hamish Moore (1990s); Garvie Smallpipes in A by Nigel Richard.
Album recorded at:
Castlesound Studios, Pencaitland, East Lothian. www.castlesound.co.uk
Thanks to:
Sound engineer and VERY patient man, Stuart Hamilton; Pete Stewart and David Murphy who responded to our SOS on the first day if recording, when Neil forgot his bellows… Graham Harris Graham for our album cover photograph. We've used it SO many times. Can't find a better photo! Graham's studio is in Culross, Fife, and is a must visit. www.ghgraham.com.
Charles Tibbles, not only for the Gaudete track, but for being a skilled sound man and bus manager on several other occasions! And to our pals in the folk world who've supported us from day one. www.falkirkfolkclub.co.uk
Band CDs. This outfit were so easy to deal with. Totally professional, and understood what we wanted even though we must be one of the most obscure duos out there! Would use them again above any other. www.bandcds.co.uk
Bill and Erica, for putting us up the night before the main recording day, and feeding us like Royalty, as usual…
And to all those who've supported us along the way. We've had a blast!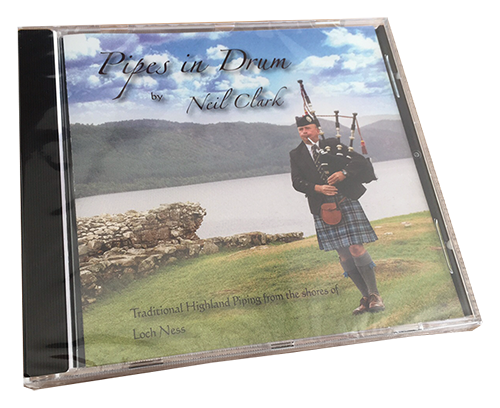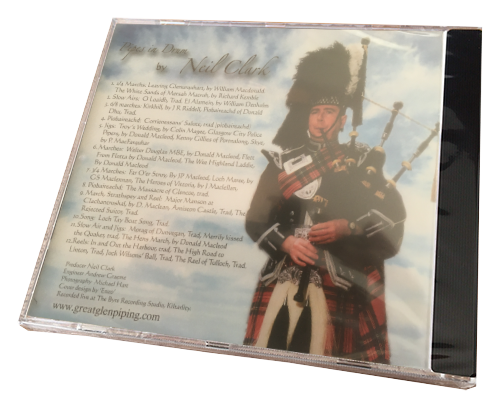 Pipes In Drum
Neil Recorded this album in 2013 when he was resident Piper at Urquhart Castle, and the album was really designed to be sold there.
However, things change of course, and we moved back to Falkirk in 2014. Still have plenty copies left. Mostly Highland Pipes, with one track featuring an embryonic Glenbervie!
We hope you enjoy the album. Below is the track list.
1. 2/4 Marches
Leaving Glenurquhart, by William Macdonald
The White Sands of Mersah Matruh, by Richard Kemble
Both competition style 2/4 marches, have served me well over the years, particularly Leaving Glenurquhart.
2. Slow Airs
Oh Loaidh, (Trad) El Alamein (William Denholm)
Oh Loaidh is a lovely Gaelic Air. El Alamein was originally written as a four part quick march, but I prefer the slow version, played here as a tribute to my Grandfather and his comrades of the 7th Battalion, Argyll and Sutherland Highlanders, 51st Highland Division, who fought at the Battle of El Alamein in 1942
3. 6/8 Marches
Kirkhill (J.R Riddell) Piobaireachd of Donald Dhu (Trad)
Kirkhill is a cracking 6/8 march, chosen in this case as it's just over the hill from Drumnadrochit, where we were staying at the time. It's also the home of the Wardlaw Mausoleum, resting place of the Frasers of Lovat Piobaireachd of Donald Dhu is an ancient piece of music, taken from the actual piobaireachd, 'Black Donald's March', and commemorates events at a (there were several) battle of Inverlochy in 1425. 
4 Piobaireachd - Corriennessan's Salute
A tune which has been very good to me, prize wise, although it did take me three competitions to actually perform the thing properly. Legend has this celebrating a Corrie into which deer were herded, making them easier to shoot, however, I like Donald Macleod's take on it better. He said no one knows the background to this tune. Which is probably about as historically accurate as most!
5. Jigs
Troy's Wedding (Colin Magee), Glasgow City Police Pipers (Donald Macleod) and Kenny Gillies of Portnalong, Skye (P MacFarquhar)
Three relatively (by my standards) modern jigs, one from perhaps 1980 with Troy's Wedding… I remember playing this with 2nd Battalion Scots Guards in 1983. Glasgow City Police Pipers, from 1950 – ish. Connection there as I was at one time a Glasgow/Strathclyde Police Piper. There my connections end, as I don't know Kenny Gillies and have never been to Portnalong, but I have played this one with a degree of success in competition.
6. Marches
Walter Douglas MBE, Flett From Flotta, and The Wee Highland Laddie, all by Donald Macleod
I love Donald Macleod compositions. These three throw up memories. Walter Douglas MBE was the march on at either the 1981 0r 1983 Edinburgh Tattoo. Flett From Flotta, I heard every Saturday morning at piping classes at Larbert High School with my teacher Hugh Wilson, but it was the group slightly above me that played it. I was never taught it as a kid, but it throws up memories of that classroom. Happy memories too. The Wee Highland Laddie was in yet another Scots Guards marching set, and if you don't play it, really sounds an obscure tune. I love it!
7. 3/4 Marches
Far O'er Struy (JP Macleod) Loch Maree ( G.S Maclenan ) The Heroes of Vittoria ( J. MacLellan)
The Struy referred to here is a viewpoint in Sutherland. One of those "Short Cuts" over the hills that most certainly isn't a short cut, but this one is worth it for the view ( if it's not clouded over). Loch Maree is in Wester Ross, once one of the best Sea Trout Lochs in Scotland. Vittoria was an engagement in the Boer War, and again this tune was one I heard on a Saturday morning, but was never taught myself. Hugh must have changed his repertoire by the time I got to that level!
8. Piobaireachd - The Massacre of Glencoe
No real introduction needed for this, I'm always surprised that this is one of the tunes that gets most hits on my YouTube channel. Some must go in thinking they will be hearing "Oh cruel is the snow" but it does get a remarkable amount of views. Crunluath a Mach variation included here, which helps to raise the tune to a level just above beginner.
9. March, Strathspey and Reel
Major Manson at Clachantrushal (D. Maclean), Arniston Castle (Trad), The Rejected Suitor (Trad)
Major Manson has really became a staple of the competing circuit. Good Accordian tune too! I've always liked Arniston Castle, but more so in recent years, as it was also a favourite of my best pal, Brian Aitchison, who passed away in 2016. The Rejected Suitor for me, has never been a particularly "heavy" reel, yet still holds its own in competition. And it's enjoyable!
10. The Loch Tay Boat Song. (Trad)
Me and Kathryn singing together on this, with other instruments. I've been singing this one for years, after hearing the Corries perform it in maybe 1976. I can still hear the combolins in this, even although there's none in it…
11. Slow Air and Jigs
Morag of Dunvegan (Trad), Merrily Kissed the Quaker (Trad), The Hens' March (Donald Macleod)
Dunvegan is quite a special place. Not sure who Morag was, again though for me, this brings back memories of my first Edinburgh Tattoo in 1981. I've more often heard Merrily in folk circles, where I've also heard around 10 different names for it, usually with "Merrily" in there. The Hens' March, yer another Donald Macleod tune, this one first played by myself with the Guards Depot Band in 1981. Not sure if I managed all those B Strikes perfectly in those days either!
12. Reels
In and Out The Harbour (Trad), The High Road To Linton (Trad), Jock Wilson's Ball (Trad), The Reel of Tulloch (Trad)
Different influences coming in here to close the album. First heard In And Out The Harbour on a Battlefield Band album, and have loved it ever since. The High Road to Linton is possibly THE reel…. Jock Wilson's Ball and The Reel of Tulloch finished off the Sword Dance for Scots Guards Highland Dancers. And I dare say still does.
Get in touch
Fill out the form to enquire about tuition, events and anything else.