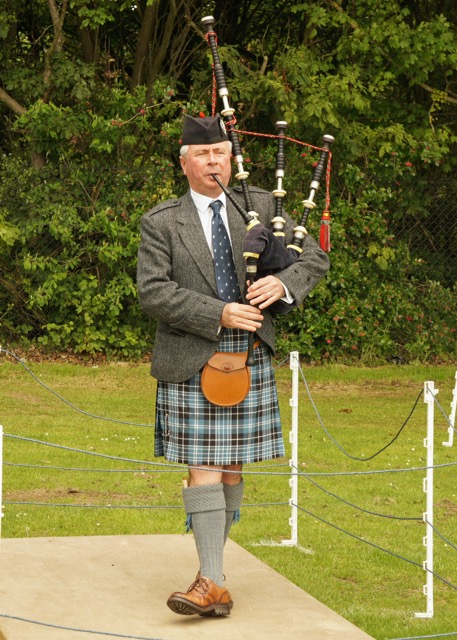 Neil Clark
Neil has a proven track record in both performing and teaching. He has been playing since age 4, and joined the Scots Guards age 16, playing with the Guards Depot Piping School in Grades 3 and 2, then the 2nd Battalion Scots Guards in Grades 2 and 1. He competed as a solo player until age 18, being successful in local competitions.
In 1986, Neil joined Strathclyde Police, playing with the 12 times World Champions Strathclyde Police Pipe Band in 1994 – 2000, then 2004 – 2008. Between stints with 'The Polis', he played in several other bands, and also in Folk Bands. In 2011, he played with Shotts and Dykehead, and returned to solo competition, until retiring from the solos in 2019 as a professional graded player, in the Competing Piper's Association B Grade.
Neil began teaching in 2008, when he taught local Air Cadets, and went on to establish the Scotland & Northern Ireland Air Training Corps Pipes and Drums. He established bands for Glasgow and Lanarkshire Army Cadets, Drumnadrochit Piping Society and helped to establish Tulliallan Pipes and Drums. Since leaving the police in 2012, Neil has taught full time, in person and over Skype, and has achieved the highest Piping and Drumming Qualifications Board certificates. He is a PDQB qualified teacher, and also an examination assessor. In 2015, Neil spent six months instructing the Royal Oman Police pipe band. Neil has been called on to instruct at the College of Piping, Glasgow and has solo prize-winning pupils all over the world. He instructs from beginner to prize-winner and is flexible in his approach to instruction, in order to tailor learning to the individual. His YouTube channel is in place to support learning for pupils and the public, and is used daily by thousands, worldwide.
Around the end of 2019, we began receiving so many tuition enquiries that it became impossible to keep up with demand. We would like anyone interested to please keep contacting us, and if we have a slot available for you, we'll certainly fit you in. But since 2020, we have been recommending three good friends of ours. Please note – these gentlemen teach in their own right, and are NOT employees of Falkirk Piping. We'll put you in touch and leave you with them. (Still nice to hear how you're progressing though, so do stay in touch!)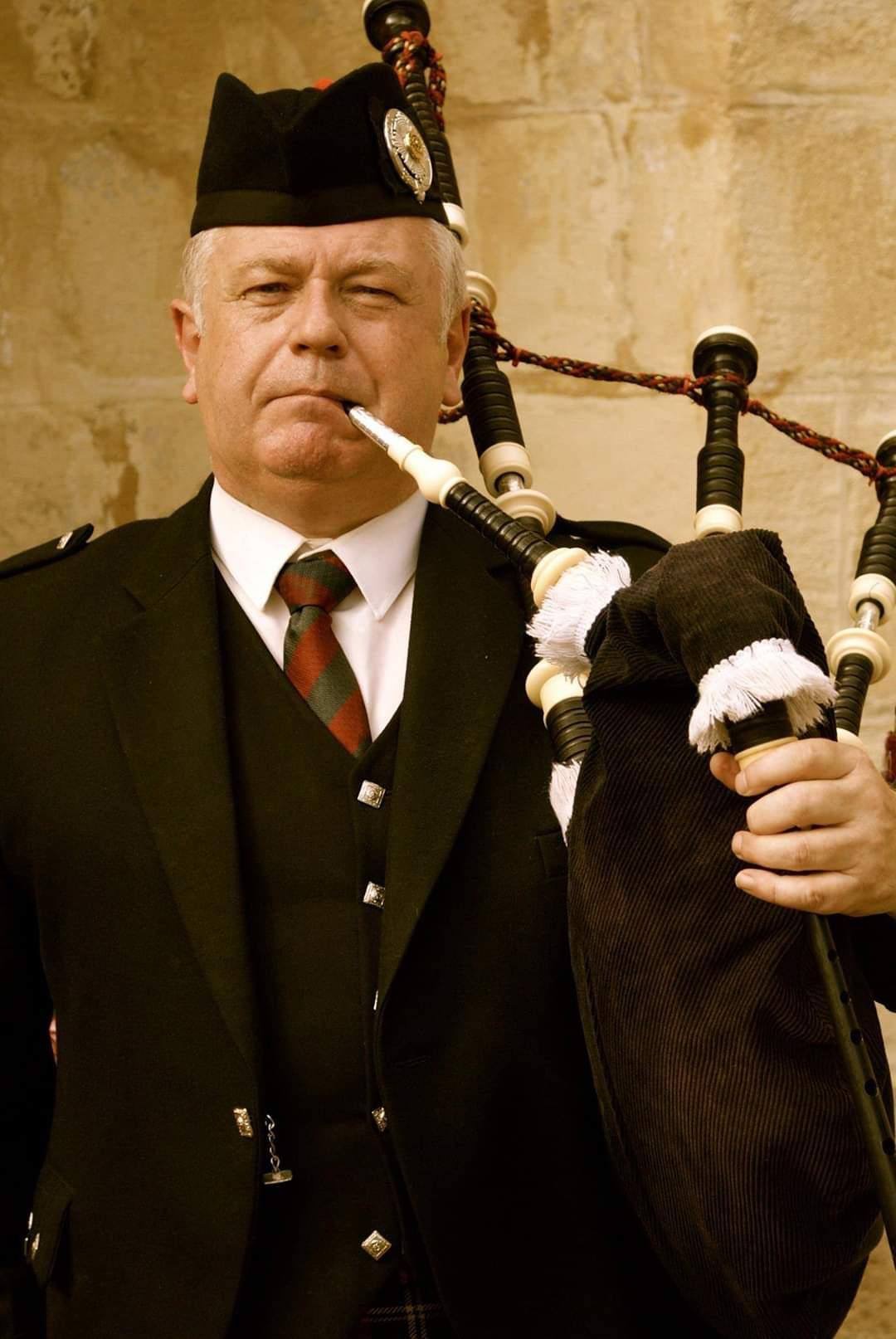 Steven Duffy
Steven has been a good friend of Neil's since they both served together in the 2nd Battalion Scots Guards in the 1980s.
Steven was taught piping from age 10 before joining the Scots Guards in 1977. He gained his Army Pipe Major's Certificate in 1983, and the College of Piping Teaching Diploma in 1984. He competed with 2nd Battalion Scots Guards, winning Grade 2 European Champions in 1983, and runners up at the World Pipe Band Championships. The band obtained Grade 1 status in 1984, making it one of the few army bands to secure this grading. Steven was appointed Pipe Major of the Scots Guards Association (South) in 2001, and led them in winning the English Grade 2 Mini Band Championships the following year. He began teaching piping professionally on a full-time basis in 2014, preparing students for examination and competition. He has judged solo piping competitions and, like all our recommended instructors, has the necessary disclosure certificates for working with children and vulnerable adults.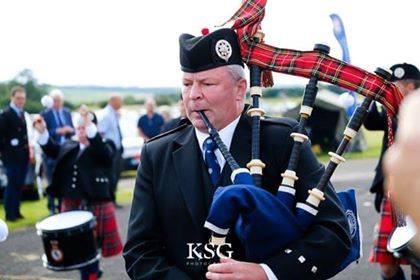 Keith Bowes (Senior)
Keith is also a Scots Guards colleague, and may need little introduction to anyone already involved in the piping world. His teaching and band leading CV is so impressive, that we've had to severely condense it!
Starting in 1979, Keith played with the Royal Caledonian Boarding School; Ballydonaghy Pipe Band; 1st Battalion Scots Guards; Polkemmet; and Caledonian Airways, before first playing with and then becoming Pipe Major of Johnstone Pipe Band in 1994.
Keith holds the Royal Scottish Pipe Band Association Advanced Certificate, and is both an RSPBA and Piping & Drumming Qualifications Board Instructor and Examiner. Keith's band achievements are tremendously impressive. He has been largely responsible for developing the remarkable Johnstone Pipe Band, leading it from a struggling Grade 4 band to a successful Grade 1 band, before handing the G1 leadership to his son, Keith Junior. Keith's band prize titles are extensive, but I particularly like the World Pipe Band Championships in 2016, where Johnstone Bands in Grade 2 and 4b both won their respective Grades. Keith was Pipe Major of both!
Aside from remarkable band success, Keith has been heavily involved in education, within Johnstone PB, RSPBA and schools in the Johnstone area. We'll allow him just a little of his own words: "Many of my students are high achievers in the Pipe Band fraternity, playing at the highest level of Grade 1. Many are also involved in the solo scene and have won notable prizes. I encourage all students to participate in formal piping education as this promotes improvement of playing ability, theory and maintenance. Some of my students have graduated from the Royal Conservatoire of Scotland."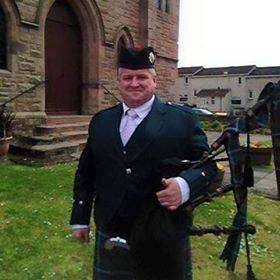 Daniel Sweeney
Dan started piping age 10 with the Strathearn Pipe Band. He competed successfully in local solo competitions before going to Perth and District Pipe Band, where he assisted in developing players in their junior section, mentoring and encouraging them to a level where they eventually played with the senior band.
Dan lives just a mile from us, in Stenhousemuir, and has been teaching students I've been unable to take on, since 2019. We get great feedback from Dan's students, who love his friendly, relaxed and straightforward approach. Dan presently plays with the Royal Scots Association Pipe Band and runs his own Piper Hire Agency. I can confidently state that Dan is one of the smartest, most well presented and professional players on the circuit.
Face to Face/Skype (1/2 hr)
Face to Face/Skype (1 hr)
Please use the below contact form to request lessons. After a lesson has been arranged we will send a payment link to pay for your lesson online via our paypal form.
Get in touch
Fill out the form to enquire about tuition, events and anything else.