It's been a busy time here at Falkirk Piping, since our last news post. Our charity walk across all the Forth Bridges for Maggie's Forth Valley was a success, with fine weather on the day and a great support team. An amazing sum of £1,126 was raised. We took lots of photos and videos, which can be seen on our Facebook page.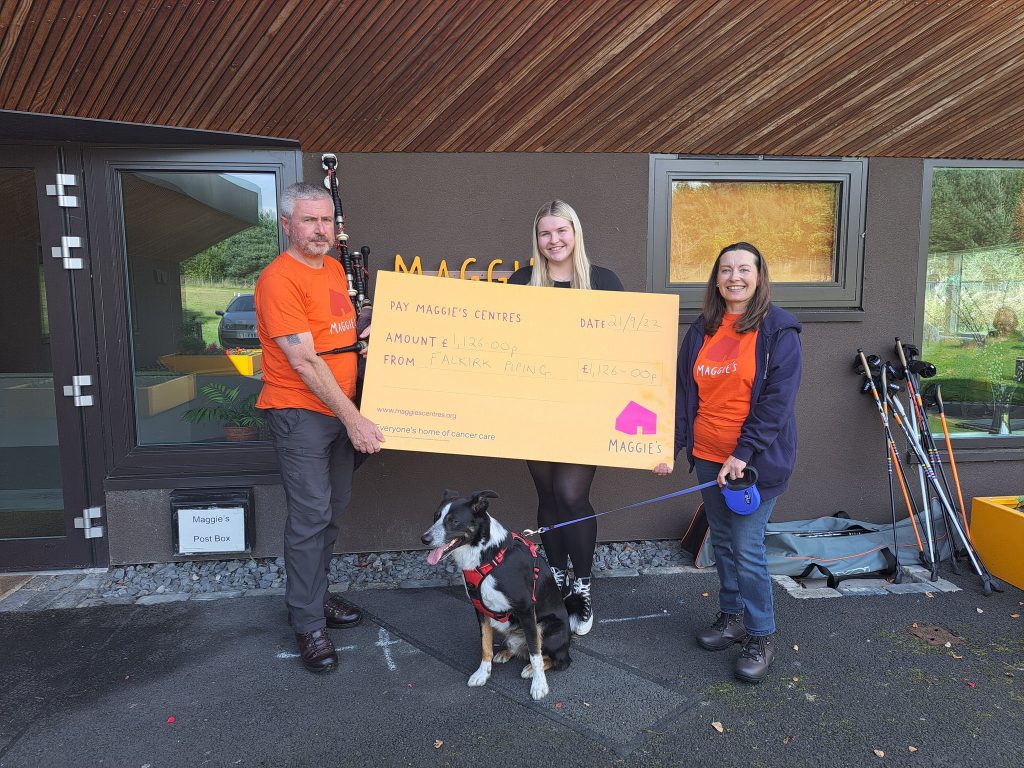 With Carrigan, the Fundraising Organiser at Maggie's Forth Valley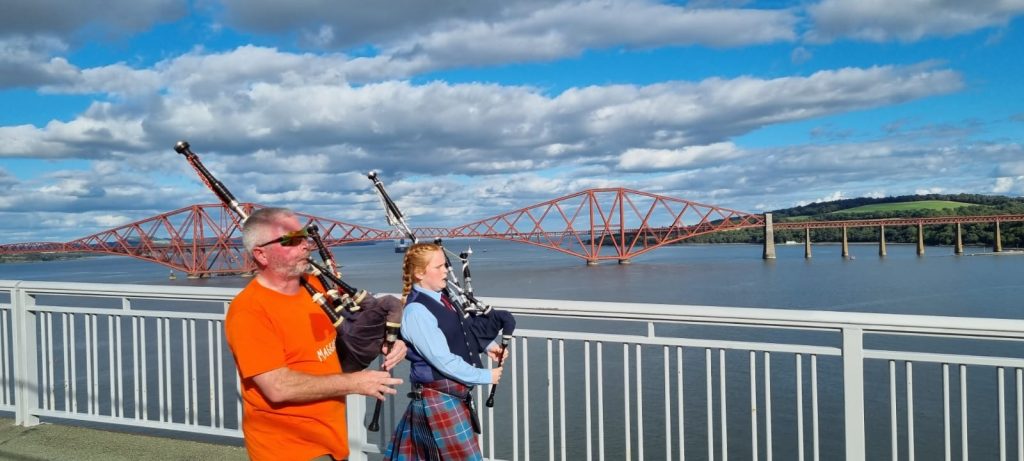 Neil with Nyree, piping across the Forth Road Bridge together
On 17th September we enjoyed playing a set on the Nora Devine stage at Linlithgow Folk Festival. They held it in the pretty gardens behind the Burgh Halls and it was a well-attended event, and a good chance for us to meet up with some folky pals.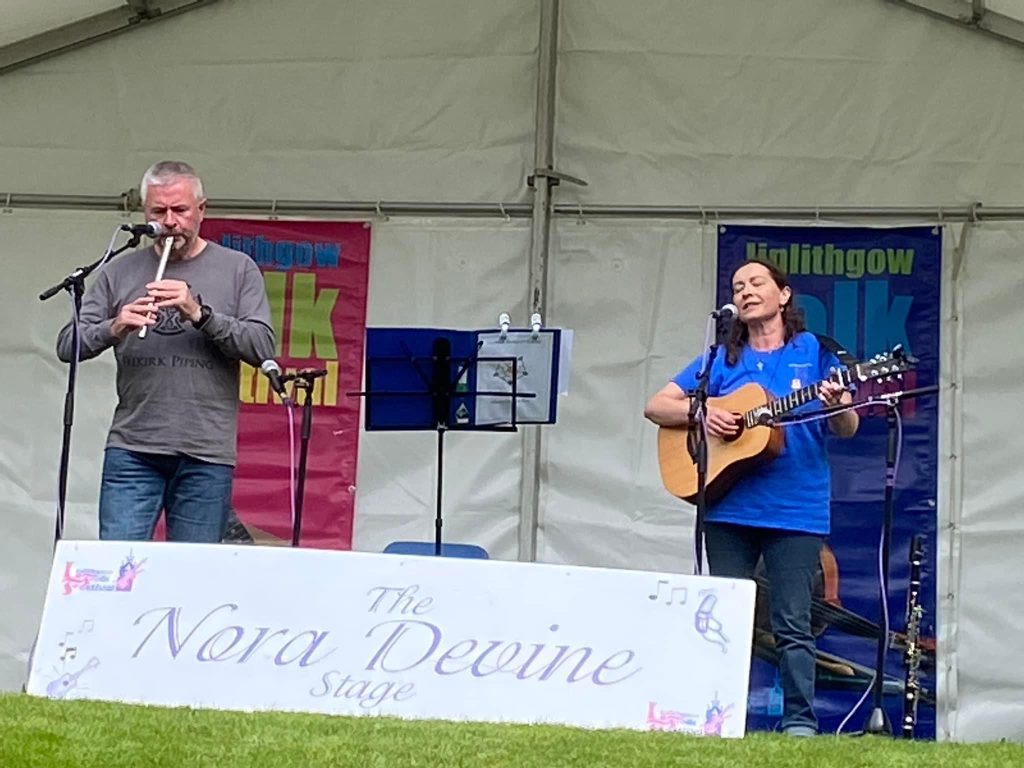 We decided to do something a bit different for Hallowe'en this year, and managed to arrange to do a recording at Culross Palace – reputed to be one of the most haunted buildings in Scotland! We have to thank the lovely Linda Whiteford for making it possible. We chose to record Violet Jacob's lovely but poignant 'Hallowe'en', and a tune called 'The Haunting' by Neil Dickie. You can find the video on our YouTube channel.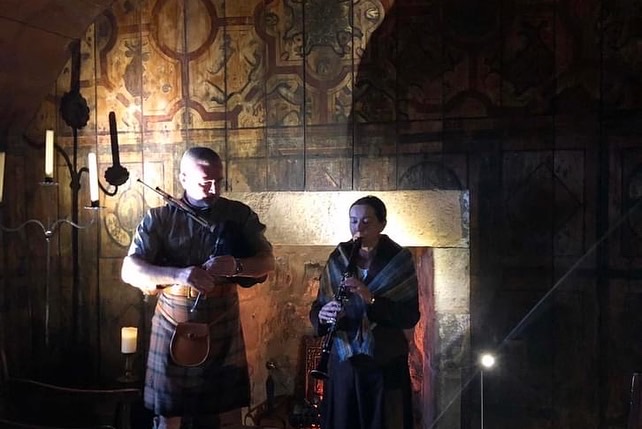 Recording at Culross Palace
We enjoy having overseas pupils visit us here, and in October we were delighted to meet in person Brother Mikael, a Trappist monk who lives in a remote monastery in Norway. He has a real talent for music and collected his first set of bagpipes whilst in Scotland.
October found us heading to Sheffield, Yorkshire, where Neil was to take a Piping Masterclass, held in the lovely Victoria Halls. This was arranged by David Barnard, and we met some of the members of the City of Sheffield Pipe Band. We were made to feel very welcome – even the weather was kind to us, with an unexpected heatwave! Milo enjoyed spending the weekend with us in a lovely hotel, where he was thoroughly spoiled. We then headed to Richmond in North Yorkshire, to a pretty rented cottage. It was great to meet up with some friends who are part of the folk scene in that area, and we enjoyed taking part in a session in one of the local pubs. For history geeks like us, the area is perfect for walking around and the weather stayed fine enough for us to record some tunes outdoors at historic locations!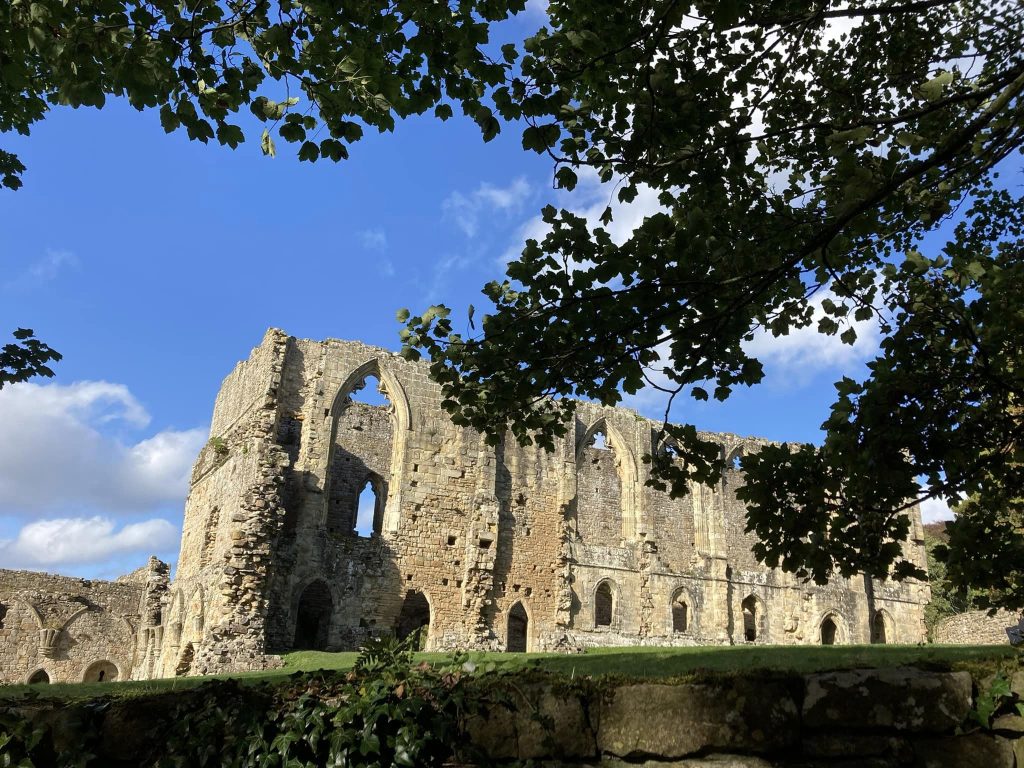 The beautiful Easby Abbey, nr Richmond, North Yorkshire
November proved to be a busy month, with Christmas tunes at the local garden centre, a Festival of Remembrance in Falkirk Town Hall and three St Andrew's Day gigs! We also played festive tunes for the switching on of the tree lights at Maggie's Forth Valley. Then it was December, and Neil had a day in Angus with the Primal Adventures team, playing for a group of visitors who were being given a taste of a Highland games. On the 7th we entertained staff, volunteers and customers at the newly-opened premises of the Seagull Trust Cruises Bookshop in Falkirk High Street. The new shop is bigger and has a cafe, serving hot drinks and delicious cakes and treats. It was fun to play a variety of Christmas and folk tunes for them. Kathryn was taking part in the Falkirk Tryst Orchestra for their Christmas Concert, held at Falkirk Trinity Church. We had been approached by the Orchestra committee and asked if we'd like to perform for their 'guest spot' this year. Of course, we were delighted to do so, although it did mean a bit of a marathon evening of playing for Kathryn! We always enjoy the lovely acoustics in the church.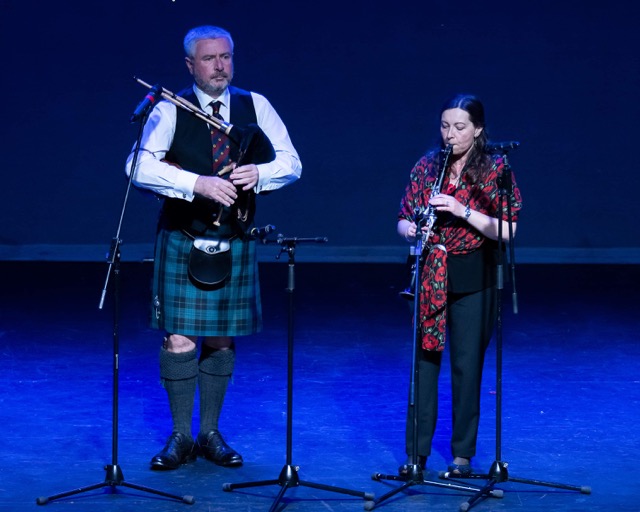 At the Festival of Remembrance in Falkirk Town Hall
This year, we decided to do another Advent Series of tunes for our YouTube channel, as it seemed to prove popular in 2021. We always have fun deciding which festive songs and tunes to include. As well as all of this, there has been the usual teaching and Neil has played at quite a few local funerals. Kathryn is now Chair of the local Arts Network which is proving to be a busy role, and of course, our crazy but lovable Border Collie, Milo, keeps us on our toes!
Please note that we will be closed from Friday 23rd December until Monday 2nd January, inclusive. As ever, thank you for your continuing support and interest in our musical ventures. We'd like to wish you all a very Merry Christmas and a happy and healthy New Year.
Neil, Kathryn & Milo