As we haven't posted any news since December last year, we thought it was time for an update! 2023 has proved to be busy so far, partly due to Neil deciding to do another '100 Days of Piping' series. The year began with a few wee local gigs for us for Burns' Night, these taking place during the day at various care homes and the Falkirk Blind Club. Neil was also asked to pipe at a commemorative tree planting on behalf of Cycling Without Age, which took place at the Kelpies (see pic below).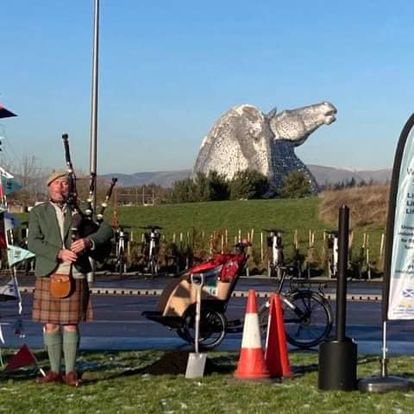 At the end of February, we travelled to St Neots near Cambridge where Neil was conducting piping workshops for pupils that he has in the area. It was an intense weekend but immensely enjoyable and we received superb hospitality. In March, we had the pleasure of playing for the Snowdrop Cafe in Falkirk Trinity Church, where people can meet informally for a chat over a cup of coffee and cakes. Also in March, our friend Garry Stanton had the launch of his new album, The Killing Chill. It was the result of a project in which Garry wanted to evoke a sense of Pictish music and life, and he'd asked Neil to guest on it with his low D whistle. The album is very atmospheric and well worth a listen! (The Killing Chill by Calgacus).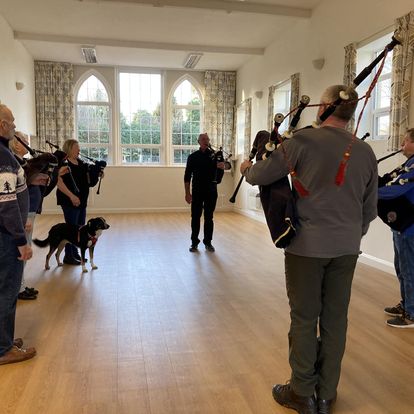 Neil with pupils in St Neots. Milo was there to supervise, of course!
In April, Neil spent a weekend in Glen Etive with Primal Adventures, for their Highland Kings endurance race. He pipes the runners off at the start and in at the finish. It's a unique event and not for the faint-hearted! Also in April, we had an exciting day at Roman House Hotel in Callander, where our granddaughter Eden was taking part in a photo shoot with the Unicorn Experience, and Neil was asked to go along to play pipes while Eden did Highland Dancing. Some wonderful photos were taken on the day, certainly memories to treasure.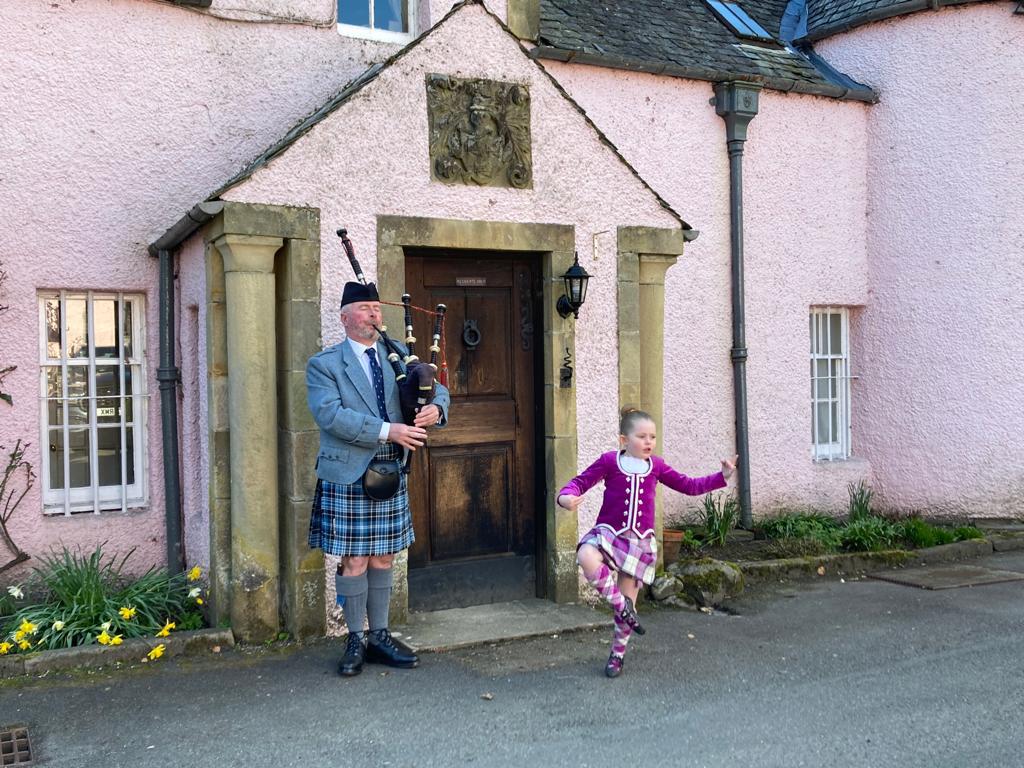 Neil & Eden at Roman House Hotel
We performed a concert via livestream in May, our first online one for a while. We enjoyed playing some material that was new to us and Milo the Border Collie featured with his usual antics. Also in May, we went to the Atholl Gathering at Blair Castle, with our friend – one of Neil's pupils – from Canada. As ever, it was a great day out with solo piping, field events and the march past of the Atholl Highlanders.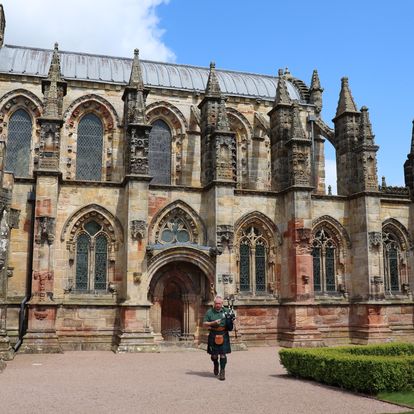 Neil at Rosslyn Chapel, as part of our 'Piping 100' recordings
In June we spent two weeks on the Isle of Mull, which has become our annual summer holiday in recent years. We were extremely lucky with the weather, having high temperatures and sunny days in the first week, and a bit of a mixed bag the second week but still warm. We got out and about with the pipes to record in some scenic places (plenty to choose from!) and even did a clarinet and small pipe recording in the Nunnery at Iona. We met some lovely local folk on Mull and were privileged to be allowed to record at Torloisk House, which has connections to clan MacLean.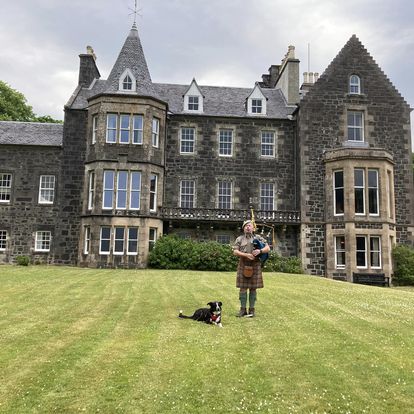 Neil & Milo in front of Torloisk House, Mull
One of our recordings on Mull was done on the island of Erraid, just off the Ross of Mull on the south western side. It's cut off by the tide so you have to check the tide times before venturing out there, although it's not far to walk along the beach to the island. It was the setting for David Balfour being shipwrecked and stranded in RL Stevenson's 'Kidnapped'. and the day we were there it was like a desert island, it was so hot and sunny!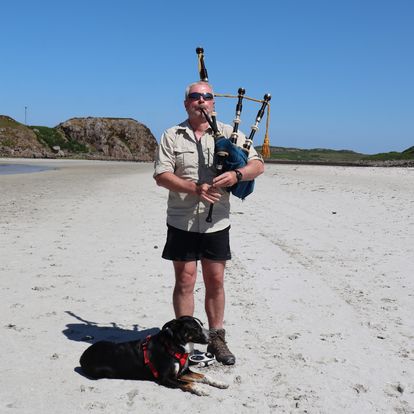 Recording a pipe tune on the beach between Mull and Erraid
We have been to Loch Buie a few times but never managed out to Moy Castle until this year. It's not far from the lovely cafe which is in the old post office there, although it was a very hot day so we were glad it was a short walk. The castle features on the cap badge of Shotts and Dykehead pipe band, so it seemed appropriate for Neil to record a tune there.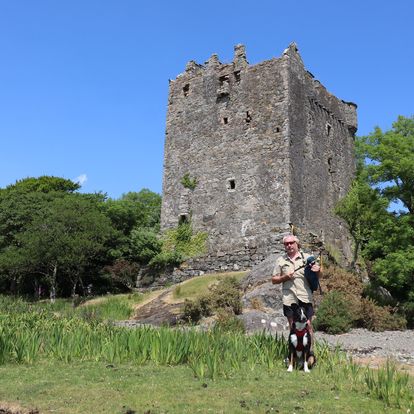 Moy Castle, Mull
On return from Mull, most of our free time has been spent recording at places of interest for 'Piping 100'. The videos can be found on our YouTube channel (search under 'Neil Clark bagpipes', or 'Falkirk Piping') and also on Facebook ('Falkirk Piping and Glenbervie Folk Duo). We enjoy sharing Scotland's history and trying to find locations to match tunes. An interesting place we recently visited, which we'd wanted to do for a while, was Dryhope Tower near Selkirk, in the Scottish Borders. Ancestors of Sir Walter Scott lived there in the 16th Century, and their daughter Mary was known as the Flower of Yarrow. So we just had to play 'Mary Scott, Flower of Yarrow' on clarinet and small pipes. We've played the tune for a few years now but it was quite something to do it at the place where she lived!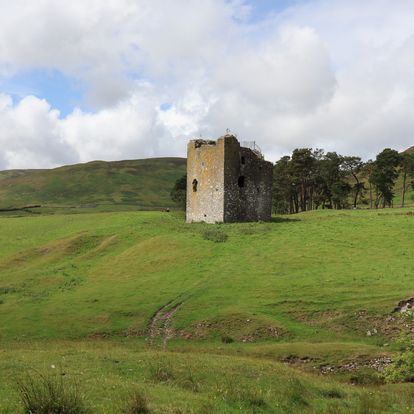 Dryhope Tower
Another historic place we recently recorded a pipe tune at was the grave of Rob Roy MacGregor, in Balquidder, Stirlingshire. There are the ruins of the old Kirk here, as well as a 'new' church. Both lovely in their own way.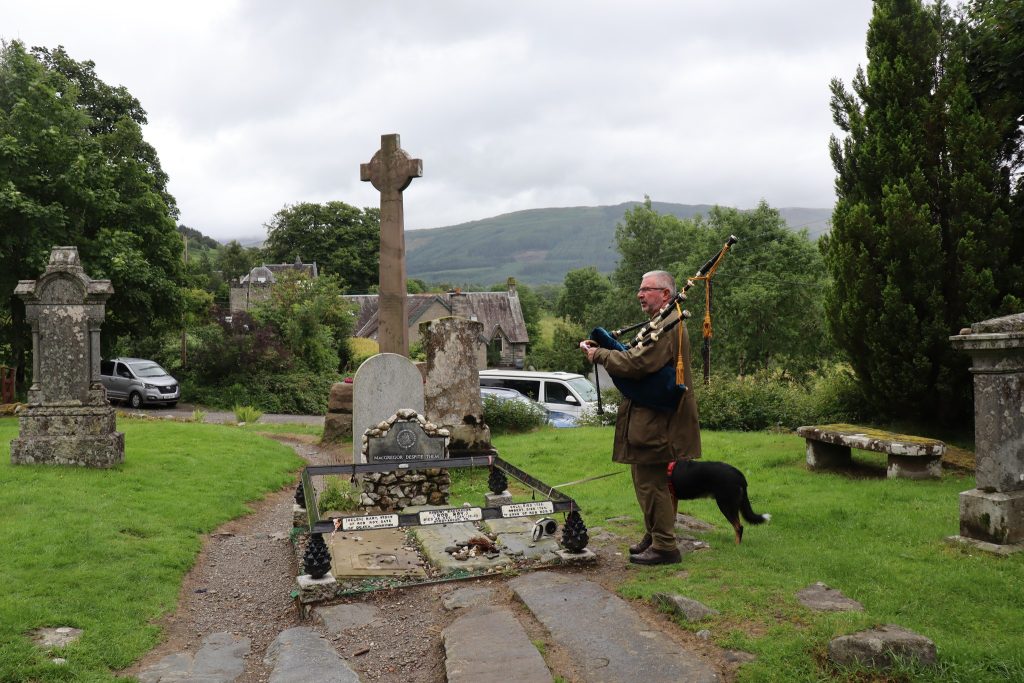 The grave of Rob Roy MacGregor
Our next big event will be Airth Games, on 22nd July, where Neil will be playing for the dancers and he also has some young piping pupils competing. We are also delighted to have been asked back to play at Schloss Erbach in Germany, for the Schottische Nacht in August. Another local band, The Tonkerers, are also taking part as well as the Clan Pipers from Frankfurt and other local performers. Falkirk District is twinned with Odenwald, the region in which Schloss Erbach is found. The last time we played there was for their Burns' Supper in Feb 2020 – we got home just before the first lockdown! We are looking forward to meeting up with our German friends again.
We hope that you are enjoying following our exploits and remember, if you ever see us out and about, please come and say 'hello' – although perhaps not if we're in the middle of filming…all the best, Neil, Kathryn & Milo 😁🎶