It's hard to believe that we're into May already! Slowly, things are getting back to a sort of normality after the constraints of the pandemic. We have a few things lined up this year for both piping and the folk duo, so keep an eye on our Facebook page and YouTube channel for up-to-date news of events and general nonsense…talking of which, we decided at the end of last year to begin recordings for a video compilation to celebrate Robert Burns, trying to keep to mainly local places which had a connection to Burns, but we also venturing a bit further afield. One of the locations we visited was Mount Oliphant, the farm in Ayrshire where Burns had spent some of his youth. Boy, it fairly brought home what a tough life that must have been! The farm has stunning views across the fields to the Ayrshire coast, but it's very exposed and although we were there on a bright and not especially cold day for the time of year, the wind which blew across the hill made it feel very cold indeed! We managed to record Neil playing a few appropriate tunes on big pipes before his hands got too numb. We had planned to play some guitar and whistle pieces but the wind was blowing right across the whistle, taking the sound with it! We were pleased with the finished video which had settings for poems and songs from across the Forth Valley and the other places we visited. It can be found on our YouTube channel (Neil Clark – Falkirk Piping).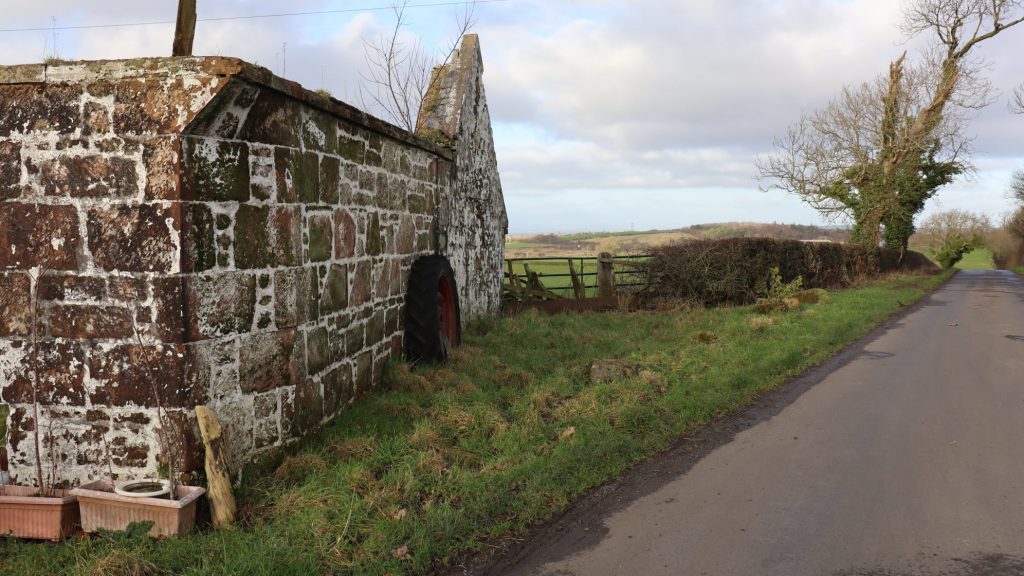 On two occasions in February, Neil had the pleasure of playing at the Murrayfield Hotel in Edinburgh before the rugby matches, with a great atmosphere and friendly rivalry. We also had a poignant moment where Neil played the Ukraine National Anthem at a vigil held at Falkirk Trinity Church, where we reflected on the difficulties faced by the people of Ukraine at this time.
Partly as training for his canal challenge (more of that later), Neil has taken Milo up a few hills this year. Ben Ledi, Ben Cleuch, and Dumyat were included. Kathryn joined them for the latter but sadly didn't quite make it to the top, as she is still building up fitness after having a pacemaker fitted last year. The pipes were played at the top and some photos of the stunning views can be seen on our Facebook page.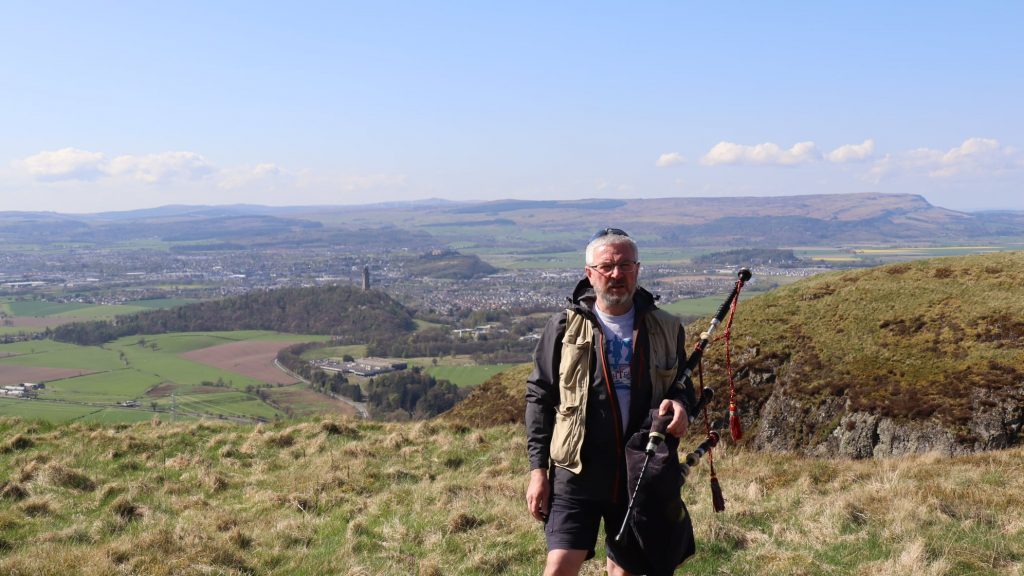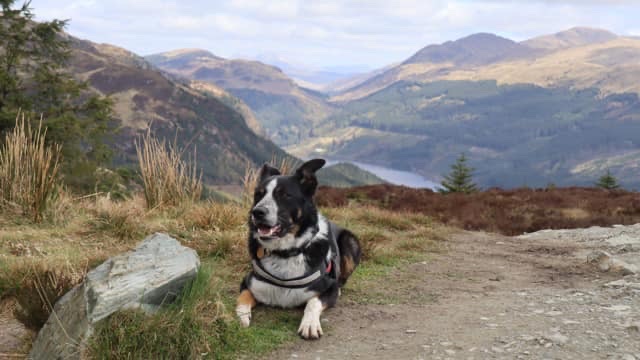 On 9 April, we had one of our first public performances as the Glenbervie Folk Duo since the Covid restrictions ended. The Lowland and Border Pipers' Society held a competition at the Burgh Halls in Linlithgow. We entered the 'Pipes and Other Instrument' category and played Lindisfarne (written by LBPS member Matt Seattle) followed by The Rolling Hills of the Borders. And we won a trophy! Well, we were the only entrants, but still…It was tremendous fun and great to hear the other entrants in their classes.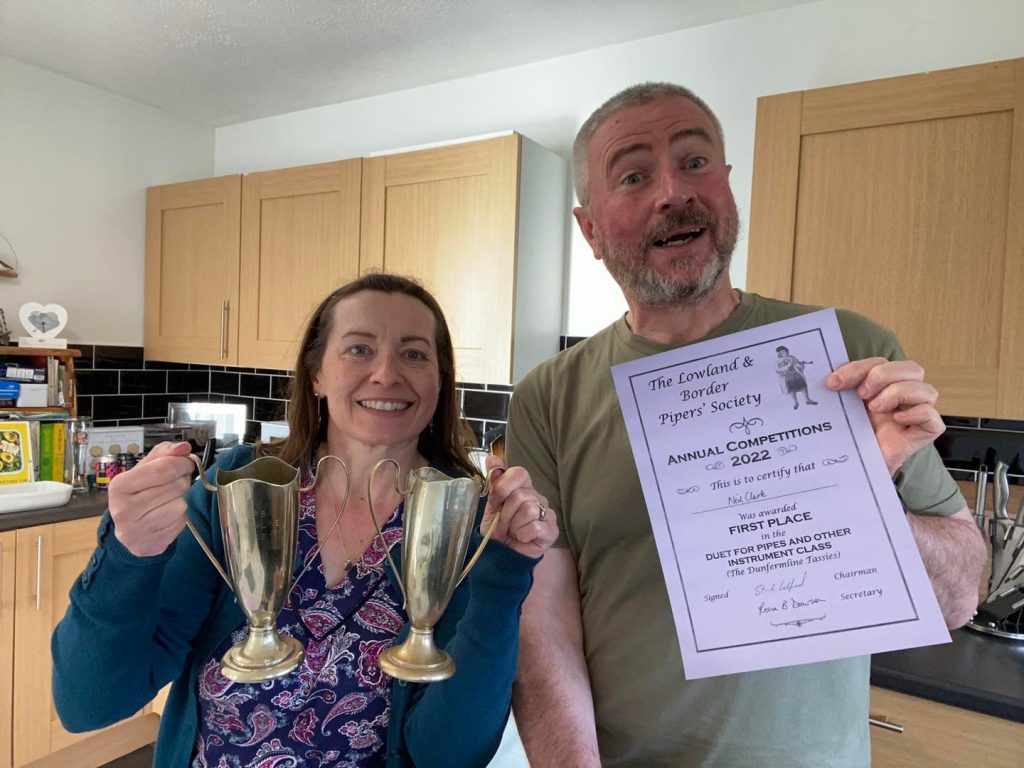 At the end of April, Neil went to Glen Etive to play for the start of the Primal Adventures event, 'Highland Kings'. It was an extreme endurance race from Glen Etive to Arran. Neil then travelled to Arran to play for the competitors arriving at Dougarie Estate. He had a superb watch tower – an enclosed roof terrace above his bedroom in a lovely old building on the estate. So he could see people arriving and then pipe them in! He even had the opportunity to speak to Sir Ranulph Fiennes at the gala dinner, where they had a lengthy discussion about piping and adventuring!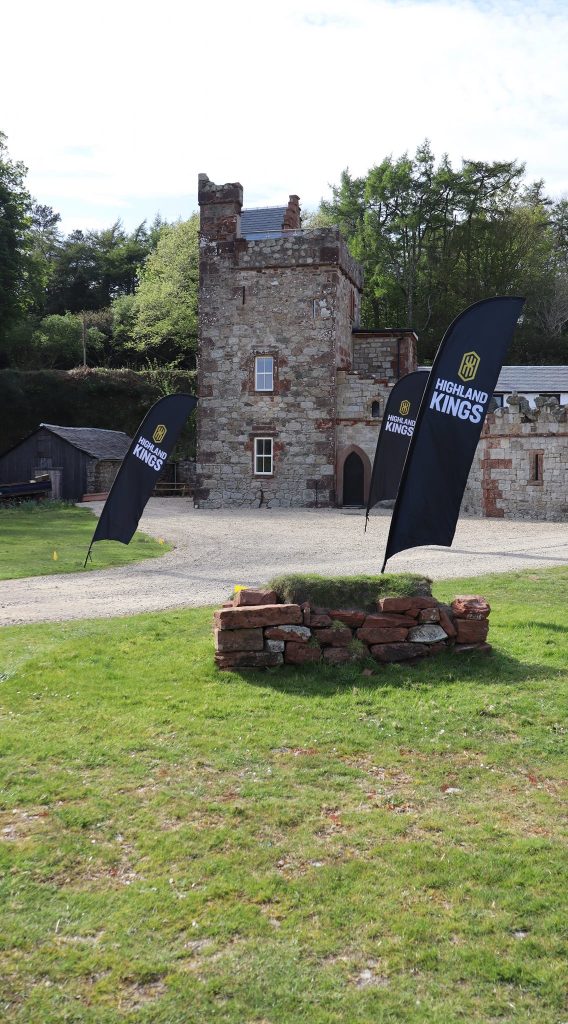 The Falkirk Tryst Festival (organised by Falkirk Arts Network) took place in May, but we were unable to put on a live gig so compiled an online video of various performances. Hopefully next year we'll manage to do something 'in person' for this very local event. However, Kathryn was involved with the Tryst Orchestra who did a concert in Falkirk Town Hall to mark the end of the festival. It was a full-on programme of music which included the Carmen Suite by Bizet, a Salute to Rodgers and Hammerstein, and The Merry Wives of Windsor. The orchestra conductor/director, Michael Graham, really put us through our paces as some of it was quite challenging, but we all had great fun and it was such a buzz to perform together again. It is good for Kathryn to play and practise orchestral music on clarinet, as it stretches her skills a bit. The social side is rather nice, too!
Earlier on, I mentioned a canal challenge…Neil came up with the idea of walking from Maggie's Edinburgh to Maggie's Forth Valley, to try to raise funds for the charity. The Maggie's centres offer support to people with cancer and their families, and do a sterling job. As it's 200 years since the Union and Forth & Clyde canals were built, and there are celebrations this month to mark the occasion, Neil decided to do the walk mainly along the canal. Another charity we support is the Seagull Trust Cruises, Falkirk, which offers free narrowboat trips on the canal to people with special needs, so we wanted to raise awareness for that, too. On Tue 17 May, Neil set off from Maggie's at the Western General in Edinburgh, having had a very warm reception from the staff, and Kathryn met him at various points along the way to do livestream filming of him playing pipes. Milo the collie joined Neil for a fair bit of the walk and had a blast! The weather was just right – still and dry, but not too hot. He finished at the Canal Centre at Linlithgow. Just over 22 miles in total!! On Wed 25 May, he will complete the route by walking from Linlithgow to the Falkirk Wheel, again along the canal, then finish at Maggie's Forth Valley – which happens to be not far from our house. Thanks to those who've already donated to both charities, it is very much appreciated.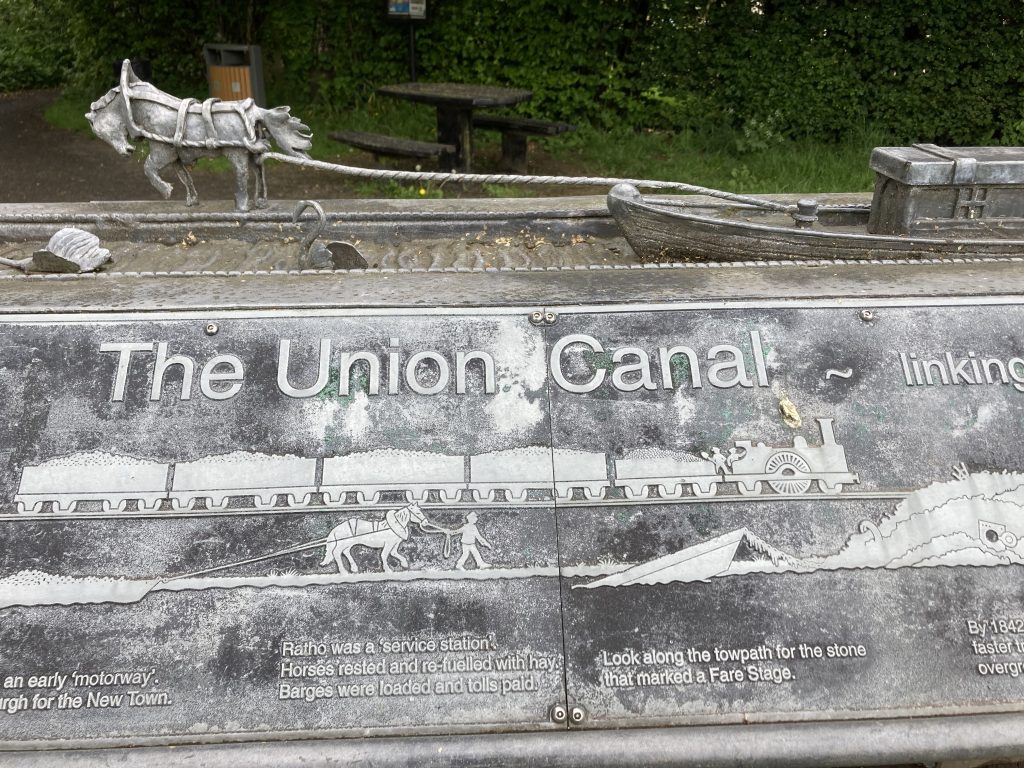 On Sat 21 May, as part of the 200 year celebrations, Neil and I will be at the Falkirk Wheel as one of the Seagull Trust barges leads the flotilla to Linlithgow, to meet with a flotilla arriving from Edinburgh. Neil will be playing bagpipes as the boats set off along the canal and we'll take footage along the way.
Neil has continued to be very busy with teaching and we're delighted to have pupils from overseas visiting with us this year, for in-person lessons. Our YouTube channel has taken off somewhat, with over 11,000 subscribers, and we now have a 'members only' section where folk can pay a joining fee to see videos before they are put out for general viewing, and have a chance for a live chat session once a month, amongst other benefits.
It's been a while since we attended any Highland Gatherings/Games, but Neil has decided to enter as a solo competitor at this year's Atholl Gathering at Blair Castle, on Sun 29 May. We're really looking forward to this, and it will be Milo's first time at such an event. He loves meeting people so we're confident that he'll have an enjoyable day. On Thur 9 June there's a sponsored walk for Parkinson's, another charity which is close to our hearts, as Neil's dad has the condition. We'll be there at the Kelpies to cheer them on and yes, pipes will be played! Another charity that we've decided to take on this year is the Disasters Emergency Committee, as they are assisting people affected by the war in Ukraine. Links to all our Just Giving pages can be found below:
Parkinson's UK: https://www.justgiving.com/fundraising/neil-clark28
Maggie's Forth Valley: https://www.justgiving.com/fundraising/neil-clark31
Seagull Trust Cruises Falkirk: https://www.justgiving.com/fundraising/neil-clark32
Disasters Emergency Committee: https://www.justgiving.com/fundraising/neil-clark35
Many thanks to everyone who's donated to these charities. Please note that we will be on holiday from Sat 11-Sat 25 June, inclusive!