Neil and Kathryn have just returned from what was surely the trip of a lifetime! Thanks to the Shackleton Scholarship Fund, we were invited to the Falklands to do performances and music workshops for the first two weeks of Feb. After a long flight from Brize Norton to Mount Pleasant, we had one night in Stanley before an early start to catch the ferry to West Falkland, travelling with one of Neil's Skype pupils and his mother, along with another young piper and his mother. It was a breezy but warm and sunny crossing and we saw dolphins, whales and albatross from the boat. Neil even played the South Georgia Whaling Song on deck!
First stop was Port Howard Primary School. We played a selection of tunes on various instruments and although some pupils weren't sure what to make of the bagpipes, they were happy to ask us questions afterwards. Then it was a long, dusty drive south to Fox Bay Primary, a tiny school with only a handful of pupils. The schoolteacher had kindly arranged to host a house concert later that day. Live music is rare in the Falklands, and even more so at these remote settlements. It was lovely to see how much our music was appreciated and we hope those who admitted to having previously played an instrument felt inspired to play again.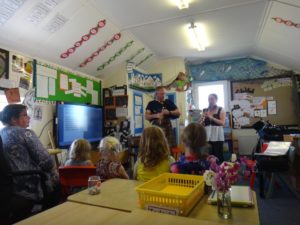 After a night in a lovely cottage there, we went north again to Port Howard and played an outdoor concert which was followed by a BBQ. Then it was back to East Falkland the following day, with a few tunes at The Galley in Goose Green on our way from the ferry, then a performance at the Falkland Islands Community School in Stanley. The music workshops began that evening, also in the school, and were well attended by a mix of children and adults. Afterwards, some of us climbed Mount Tumbledown where Neil played a poignant tribute to those who'd fallen during the conflict.
There followed a hectic week of engagements including tea with the Governor, more workshops, TV and radio interviews, two ceilidhs and other informal performances. We also managed to fit in a visit to the Memorial Garden and the HMS Glamorgan memorial, penguin spotting at Surf Bay and Gypsy Cove, enjoyable meals with the families who had helped to arrange everything and some souvenir shopping! We were fortunate to have lovely weather most of the time and it was a privilege to be able to share our music with the islanders, who had made us so welcome. If you'd like to see some more photos, have a look at our Facebook page. Our YouTube channel also has some videos from the trip.