Whew, what a busy summer here at Falkirk Piping! Neil has played at weddings most weekends and continues to have a full teaching schedule Sunday – Wednesday. We've had a few gigs and events thrown into the mix, too! We were delighted to have been asked to play at the Enable Club Fete in Falkirk. Maureen & Neil Kilgour and team do a great job with young people with learning disabilities and we had a lot of fun playing for them.
Neil was asked to play for some Chinese students at Edinburgh University summer school. I think he caused quite a stir outside the John McIntyre centre!
Neil had another good day out with Robbie Crow, when they played for the Jubilee Sailing Trust. The pic was taken beside the STS Lord Nelson which was in Leith docks.
Beside the Royal Yacht Britannia, no less!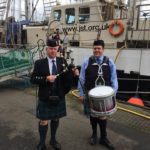 Playing as Glenbervie, we joined Falkirk Folk Club's Carroncast for a gig in Coffee on Wooer, supporting the Feis Fhort Ceilidh Trail youngsters. A good night was had by all! We also played with Carroncast in Falkirk High St during a day of varied events, which included a performance in Revolution Music, which is in the building where Rabbie Burns stayed whilst visiting Falkirk.
We were pleased to join forces again with George and Tony, our pals from Corralach Folk Duo. We did a gig at Stirling Folk Club and a charity concert at Palmerston Place church, in aid of children's cancer charity Love Oliver. Hopefully our eclectic mix of tunes and songs went down well…we finished with our rendition of Bad Moon Rising, with Neil joining in on bagpipes!!
Glenbervie Folk Duo had another invitation to play at Culross Fete and Farmers' Market, and having enjoyed ourselves so much last year, we just had to accept. There was a drizzly start to the day but it cleared up and the village was packed with visitors from all over. Kayleigh Boardman, our friend and excellent Highland dancer, joined us and Neil played for her while she wowed the crowds with jigs, horn pipes and flings. There was a great atmosphere and the day seems to have been a success all round. Check out the videos on Facebook and YouTube!
Next week on Saturday 8 Sep, we'll be making our debut at the Linlithgow Folk Festival, with a 20 minute slot on the Nora Devine stage. Hope to have pics of that to add next time…